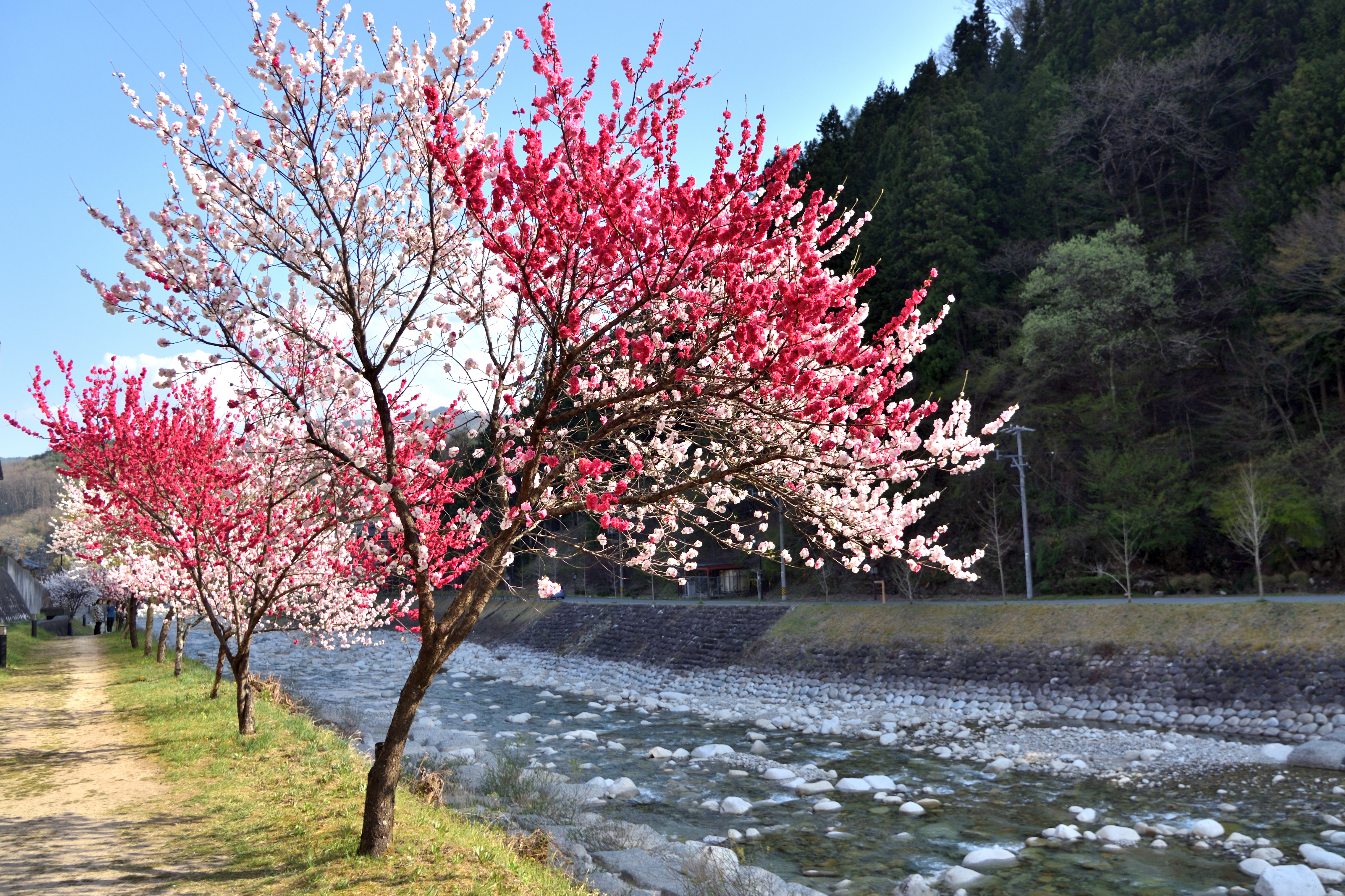 Spring feature of "The best starry sky in Japan" Achi village, "Hanamomo" or ornamental peach blossoms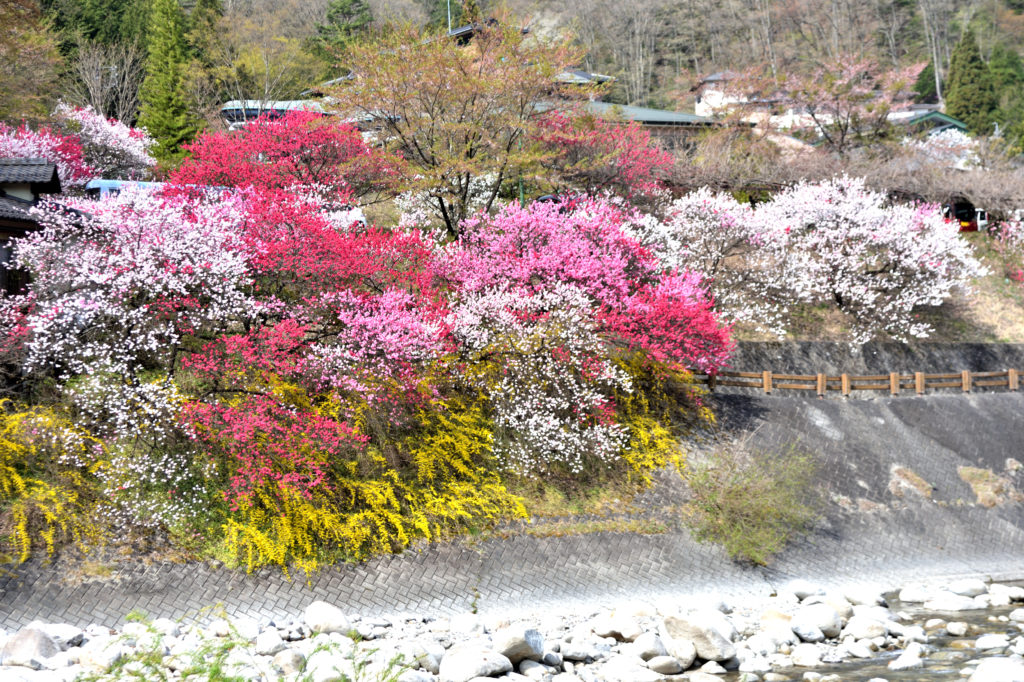 Achi village known for "the best starry sky in Japan". Achi village is a mountain village that is also known as "Hirugami Onsen," the largest hot spring resort in Minamishinshu, which is famous for its "water quality that makes the skin beautiful".
Speaking of such a feature of spring in Achi village, about 10,000 "Hanamomo" are full of blooming. A patchwork of red, white and pink tricolor flowers covers the village and stains a pink gradient. Villages where Hanamomo blooms are dotted all over the country, but a village where so many flowers and peaches bloom will be rare. From the middle of April to the middle of May, Hanamomo will be in full bloom, and you will be invited to enjoy the scenery like Taoyuan.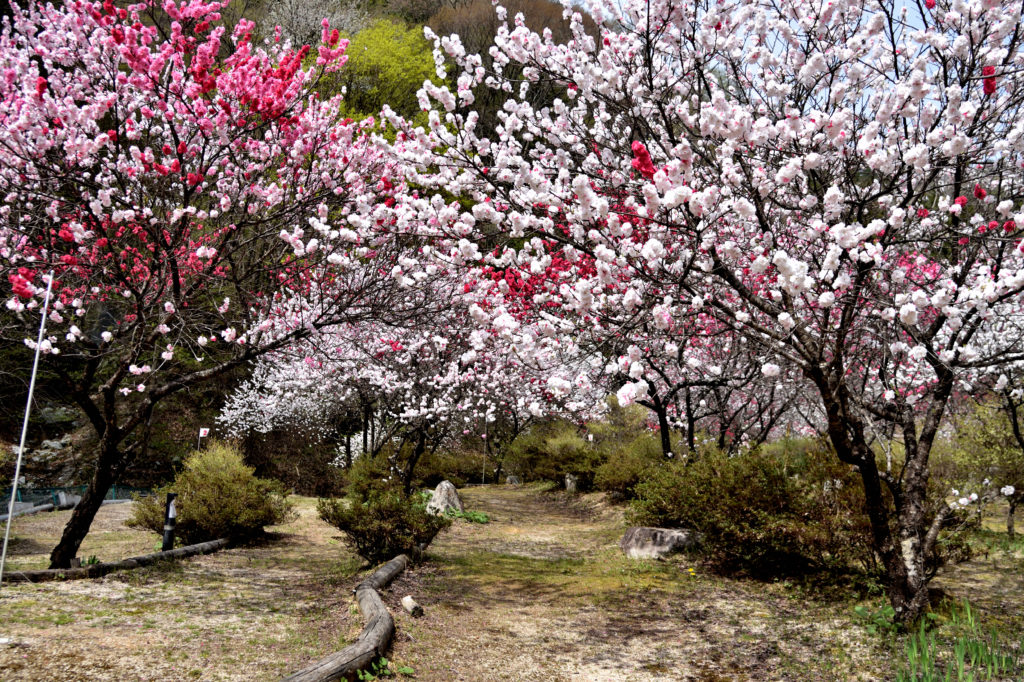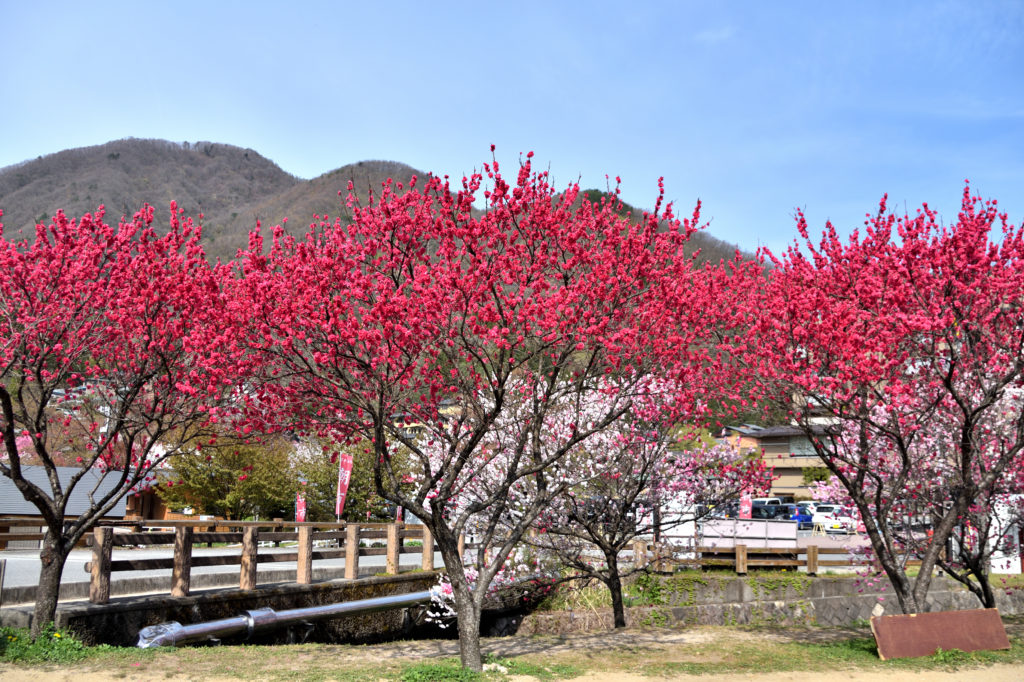 Edible Momo (Peach) and Hanamomo (Flower peach) are completely different things. Hanamomo is a modified peach for ornamental purposes. Hanamomo is a deciduous small tall tree native to China that belongs to the genus Rosaceae, and it is an exotic flower that has both the beauty of a rose and the sweetness of a cherry blossom. The petals are piled in layers, and there are red, pink, white and multiple colors, which are very gorgeous.
In Achi village, there were many "Three-color Hanamomo" that bloomed from one branch to red and white and pink. There are two weeks when the flowers are blooming, longer than the cherry blossoms, and it is also attractive that you can enjoy Hanamomo's beauty longer.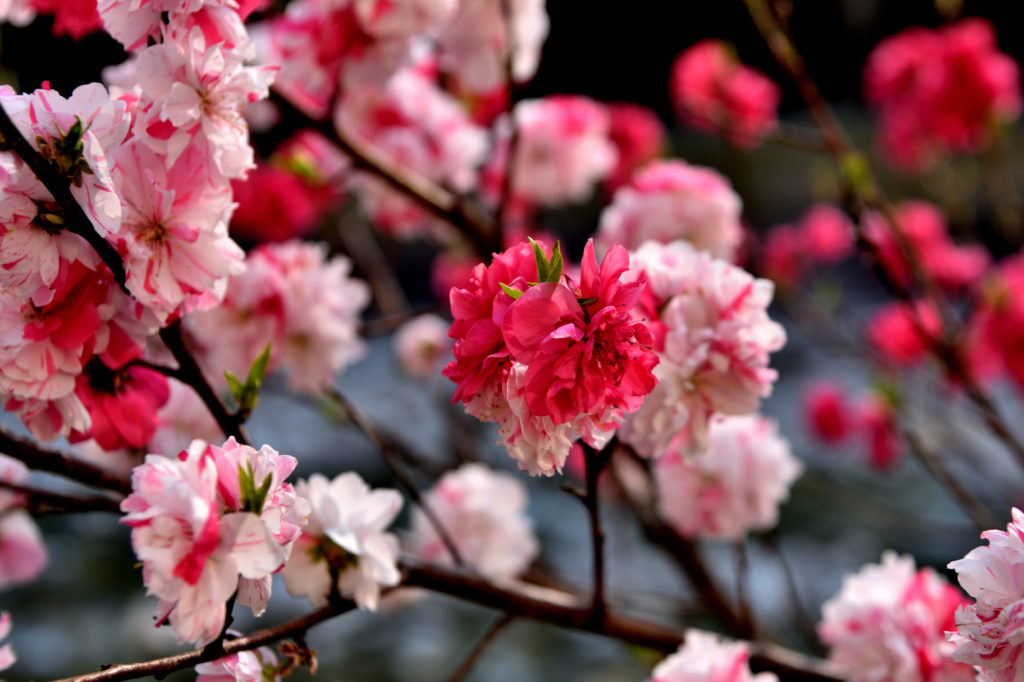 Dramatic story of Hanamomo in Achi village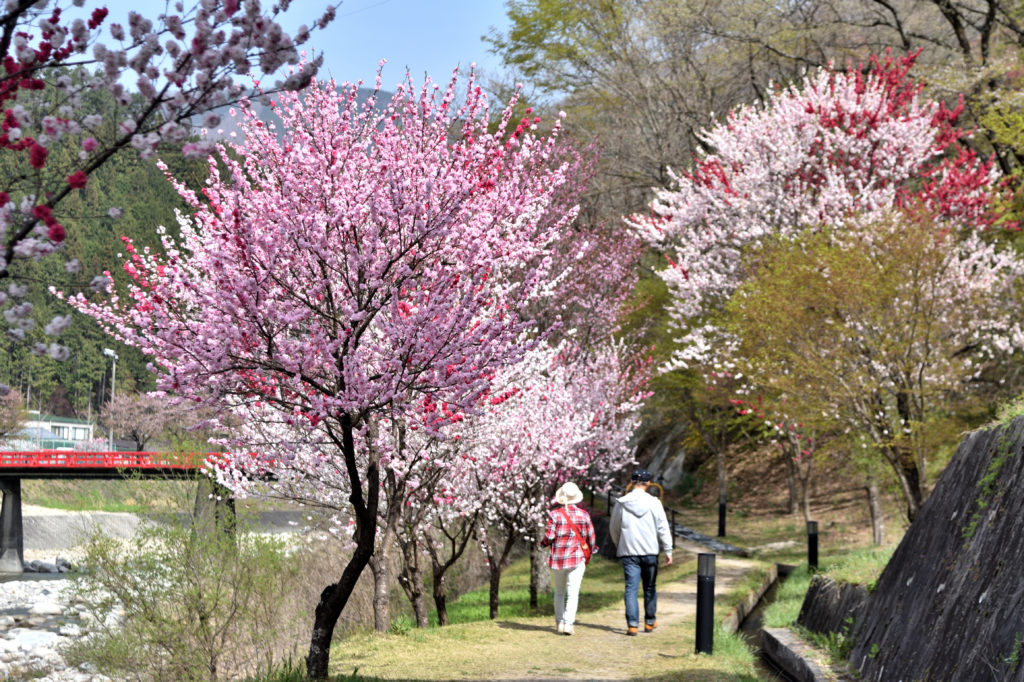 It is very recent that Hanamomo has come to Japan, and the time is in the Taisho era. Mr. Tosuke Fukuzawa (the husband of Yukichi Fukuzawa's daughter), who was called the "Japanese Power King", the president of Kiso Power Generation Co., Ltd. in 1922 (Taisho 11), was fascinated by the three-color Hanamomo that he saw in Munich, Germany. Mr. Fukuzawa bought three seedlings, returned home, and planted it in the garden in the power plant of Kiso.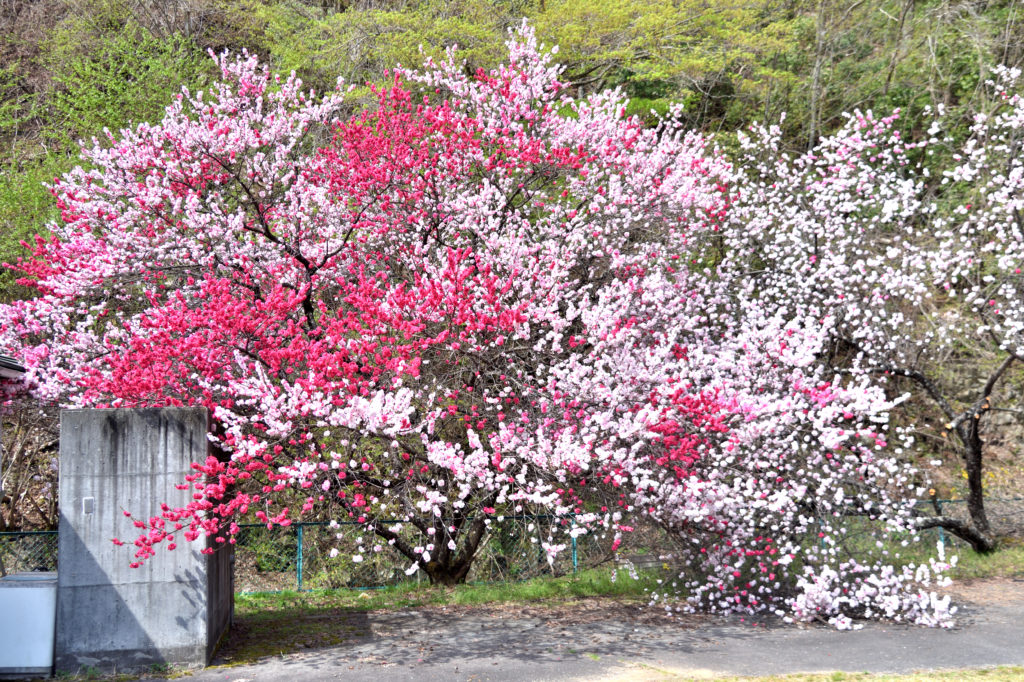 After about 1974 (Showa 49), a woman named Tome Omura who got married to a person in Achi village brought the seedlings of Hanamomo as one of the tools for marriage. The cultivation of Hanamomo spread among the people of the area triggered by the seedling.
After that, the president of the hotel in Tsukikawa Onsen thought, "I want to encourage the brides who got married to the people of the less-populated village," and started planting Hanamomo in the hot spring resort area. The village seems to have become a flower peach boom at once. 10,000 trees were planted in the whole Achi village, and it became a popular land in Hanamomo. You can see how much the villagers love and cherish Hanamomo.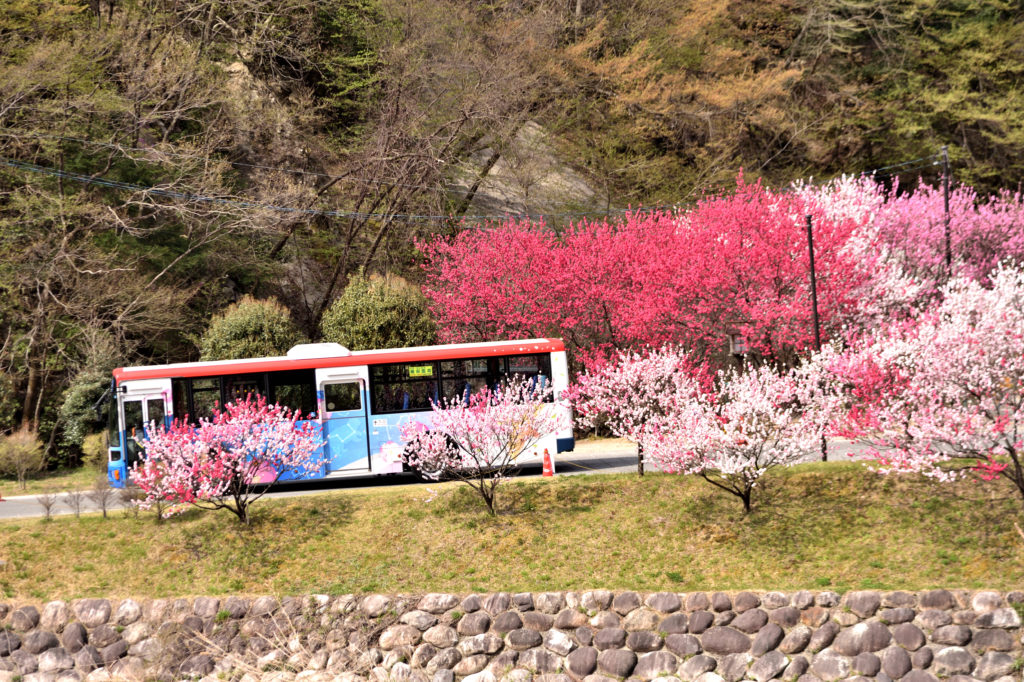 A peaceful collaboration between Hanamomo in three colors and Achi river, "Hirugami Hot spring field"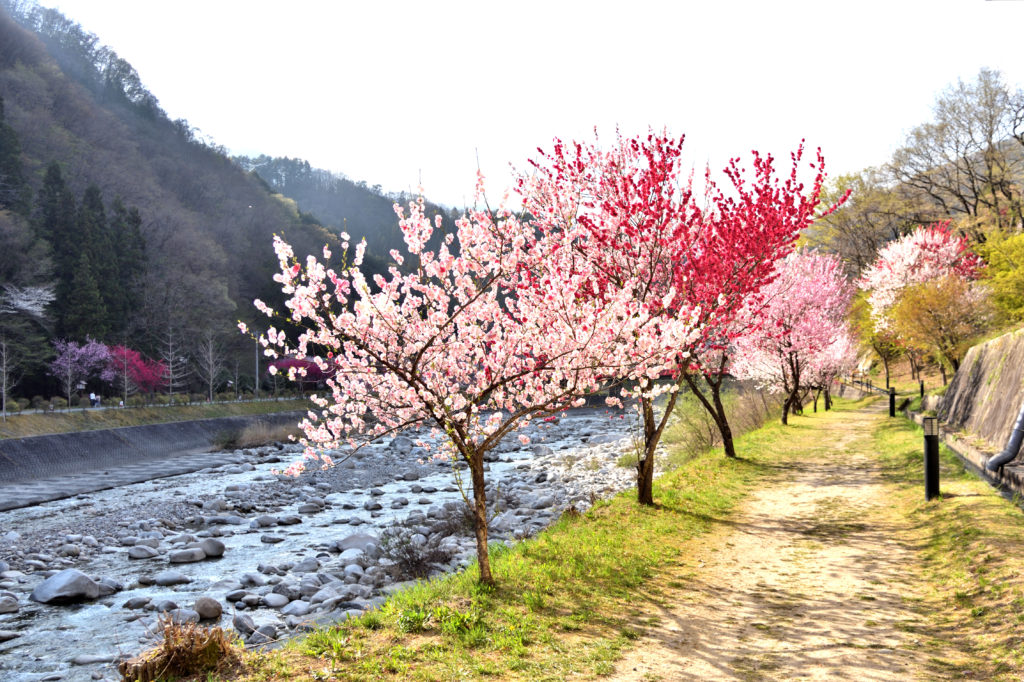 In Achi village, there are three flower peach spots of Hanamomo street, Tsukikawa Onsenkyo, and Hirugami Onsenkyo. Hanamomo street is an area of approximately 40 kilometers along the 256 national highway from Inadani to Kisodani.
In the middle of April, Hanamomo was in full swing at the Hirugami Spring hot field, and it was busy with many tourists daily. Hirugami Spring hot field is about 10 minutes from Sonohara IC and Iidayamamoto IC on Central Highway, in a quiet mountainous area. ocked0 List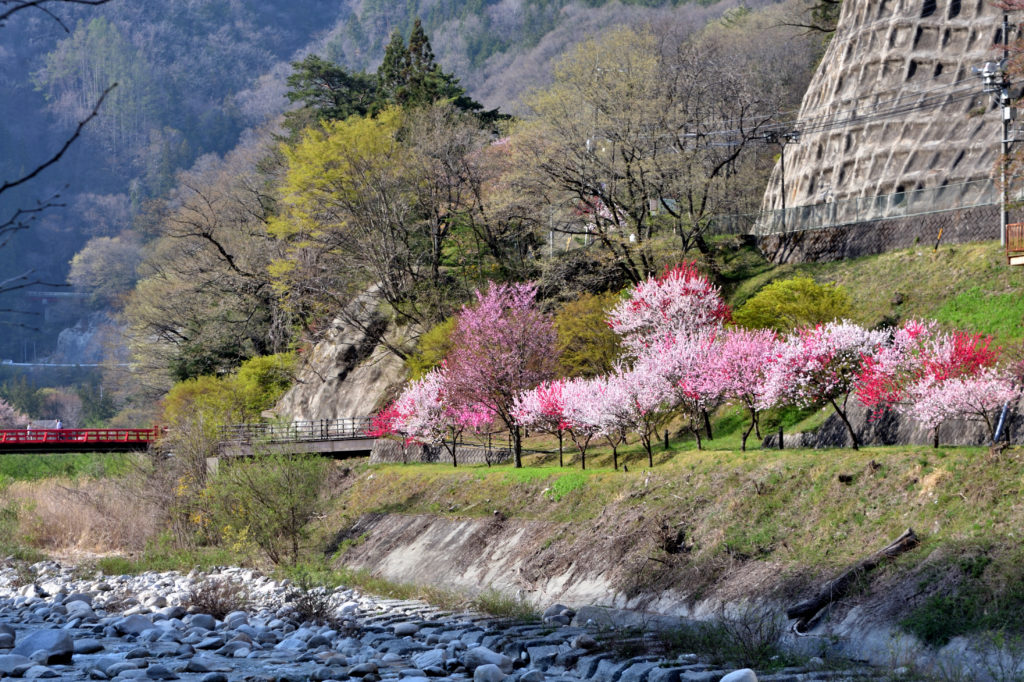 Transparent and clear water flowing Achi river. This area is surrounded by the idyllic and somewhat friendly atmosphere created by the nature and spa town.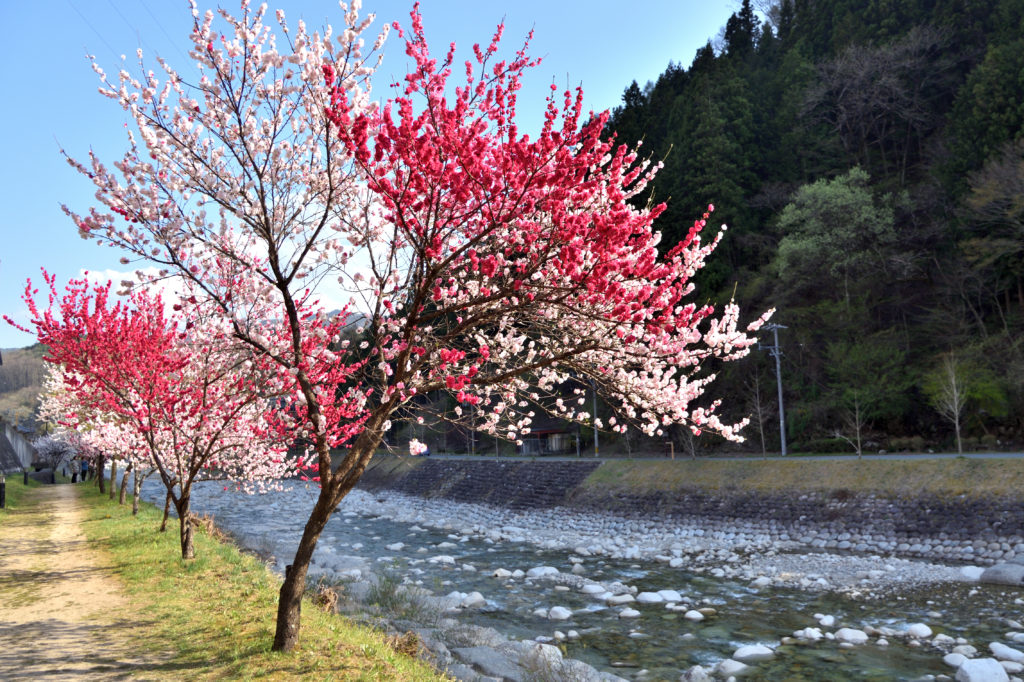 Hanamomo, which blooms along the riverside, makes the idyllic scenery more attractive. When you take a walk along the riverside path while blowing a spring breeze, the flower peach blossoms cover like a tunnel and you will be full of happiness.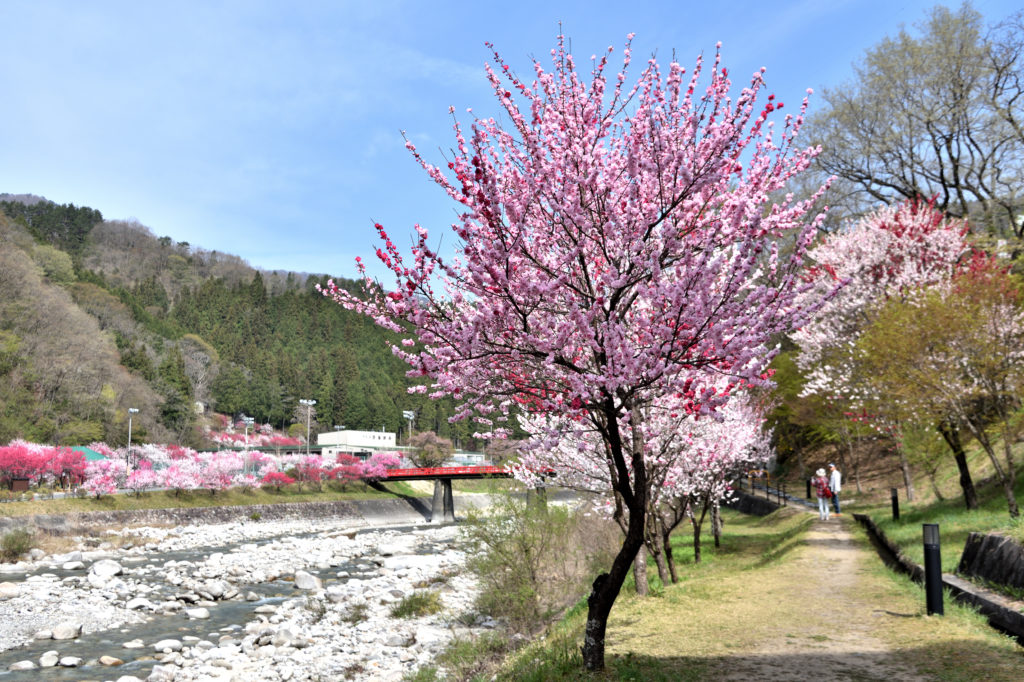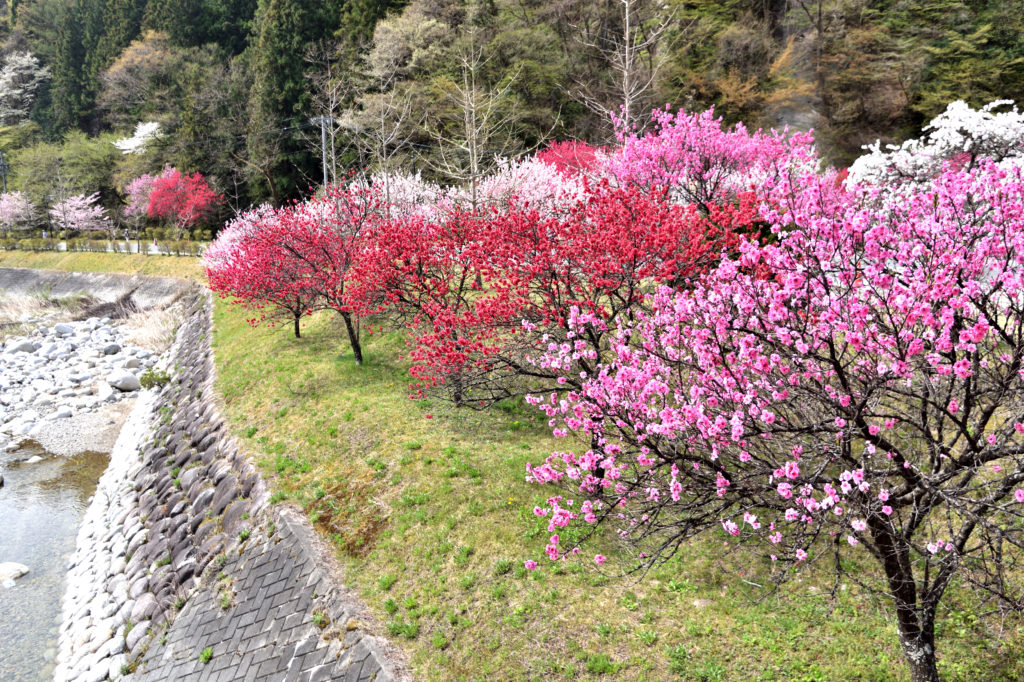 The bridge "Yunose Bridge" along with the Achi River and Hanatomo create attractive views.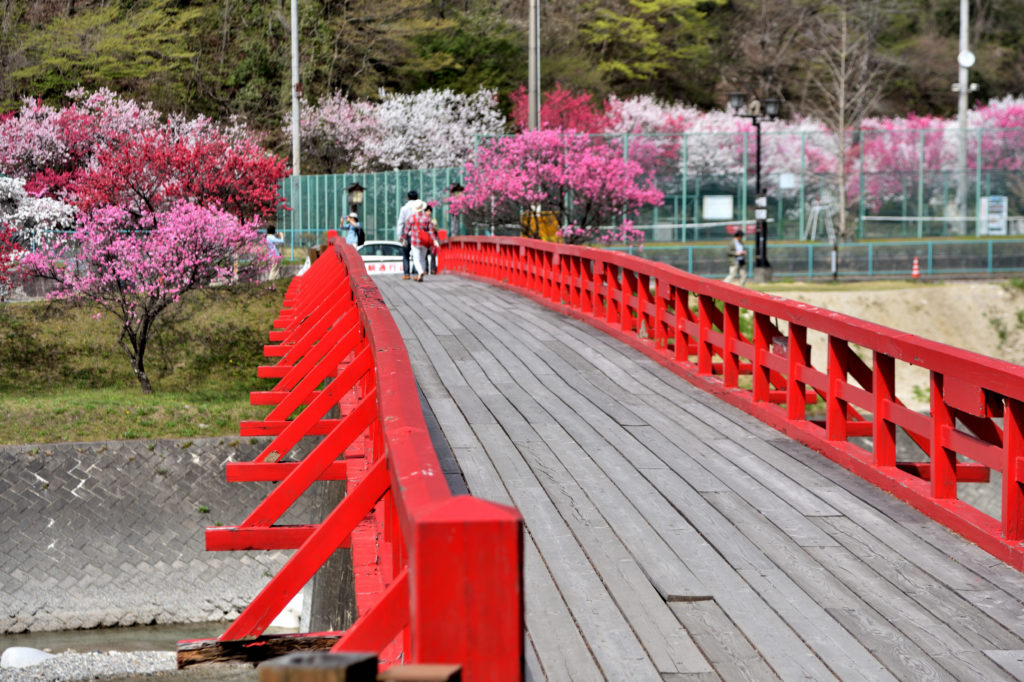 It was not just this world, but the utopia itself that Hanamomo, which had a distinct taste different from cherry blossoms and plums, bloomed in the mountains of small village.