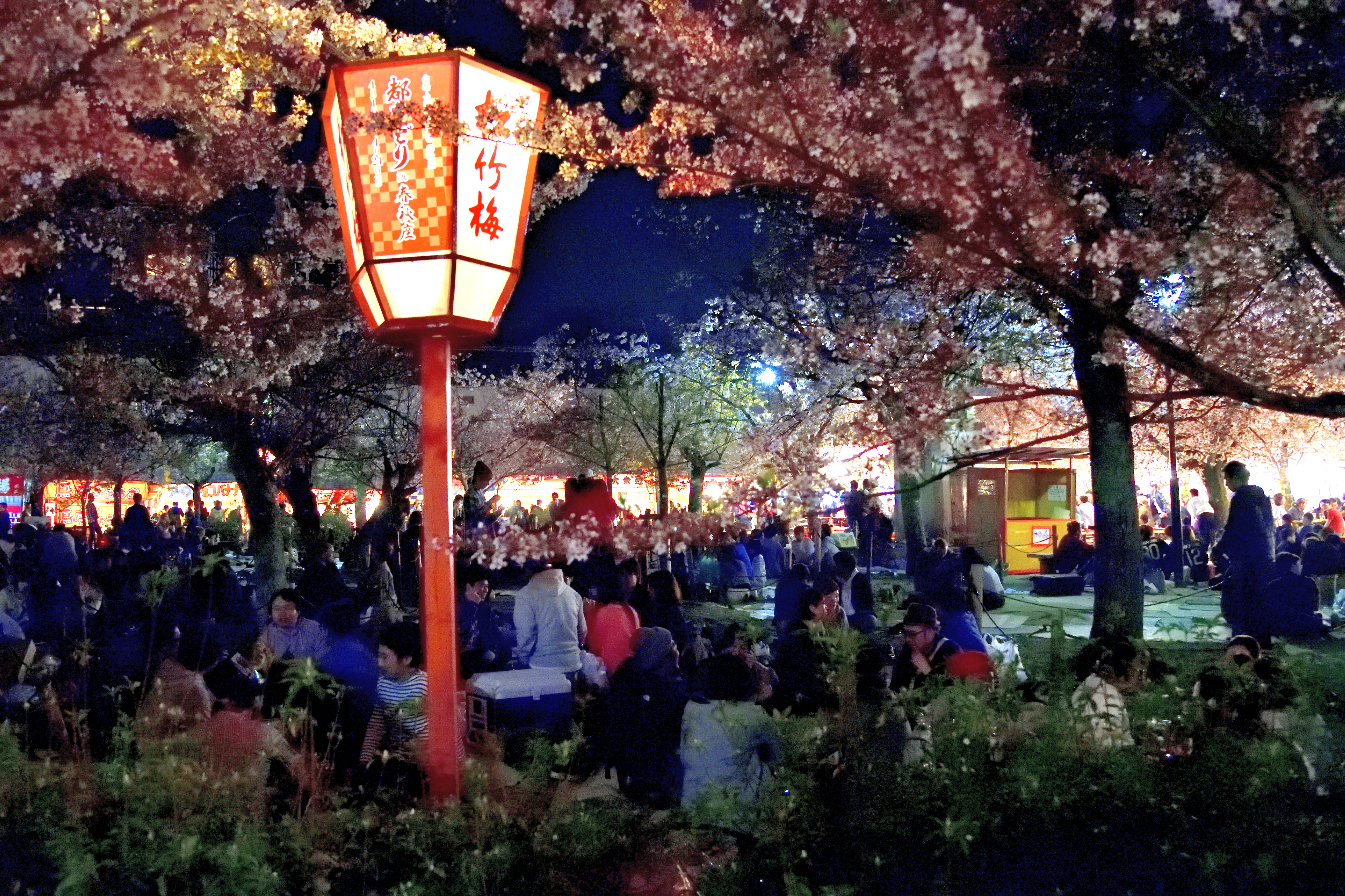 History of Kodaiji Temple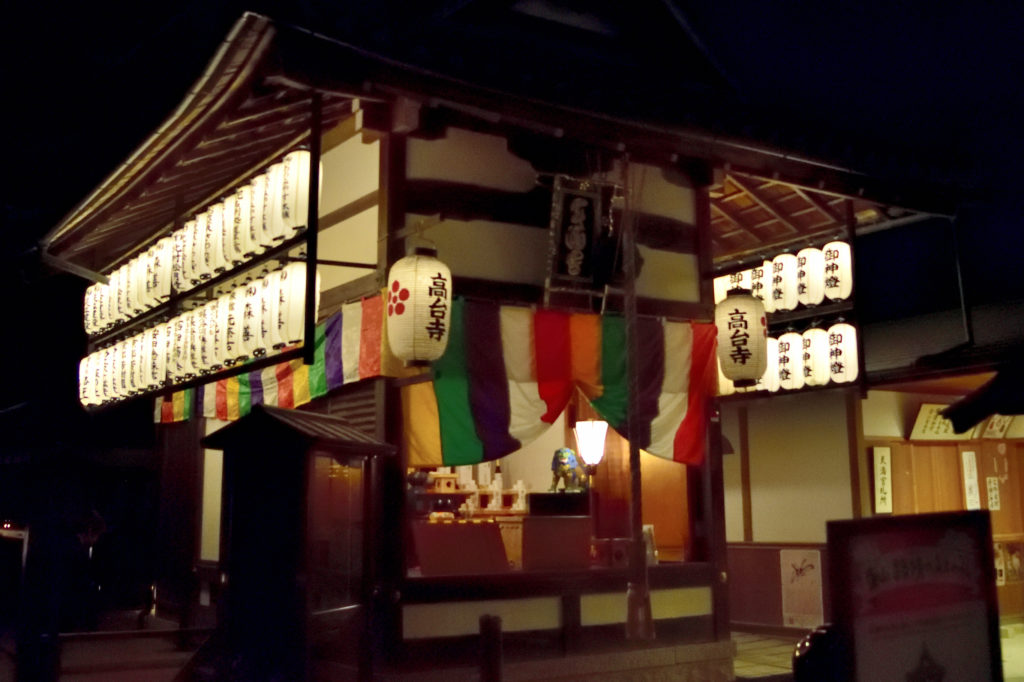 Kodaiji temple is an outstanding temple in Kyoto's Higashiyama District. It is officially called Kodaiji-jushozenji Temple. The temple was established in 1606 in memory of Toyotomi Hideyoshi, one of Japan's greatest historical figures, by Hieyoshi's wife Kita-no-Mandokoro. Kita-no-Mandokoro was also known as Nene by her nickname.
The beautiful contrast of the cherry blossoms and the white sand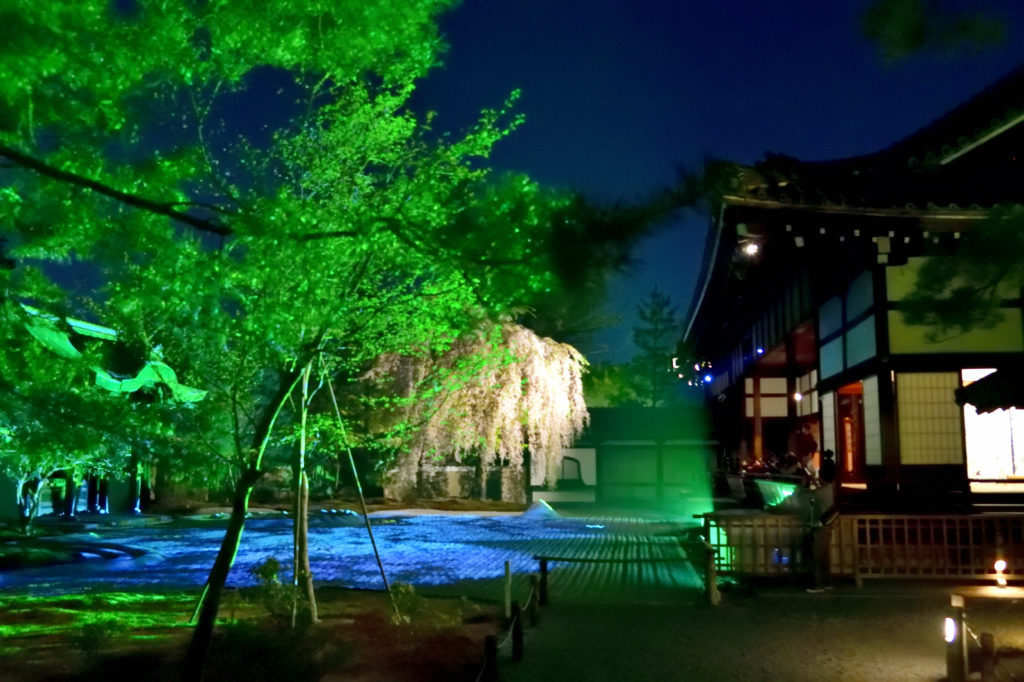 Weeping cherry blossom trees are known as typical cherry blossom of Kodaiji. The most famous one is a cherry blossom tree that is situated between Hondo and Chokushimon. In the beautiful garden filled with white sand, weeping cherry blossom tree flowers flourish every year. It is also lighted up at night, and the contrast between the pink of the cherry blossoms and the whiteness of the sand makes a more mysterious view.
The garden is organized charmingly according to the season. The temple gardens are exquisite, with ponds skirted by maples and undercover wooden walkways, a bamboo grove, and dry landscape gardens designed to convey the vastness of the ocean.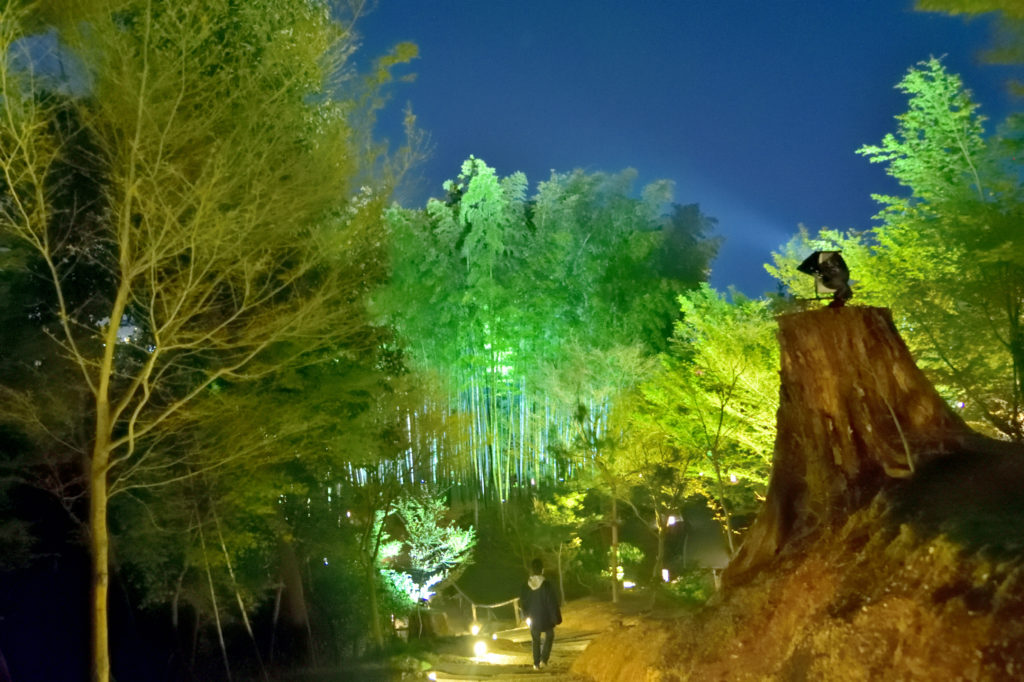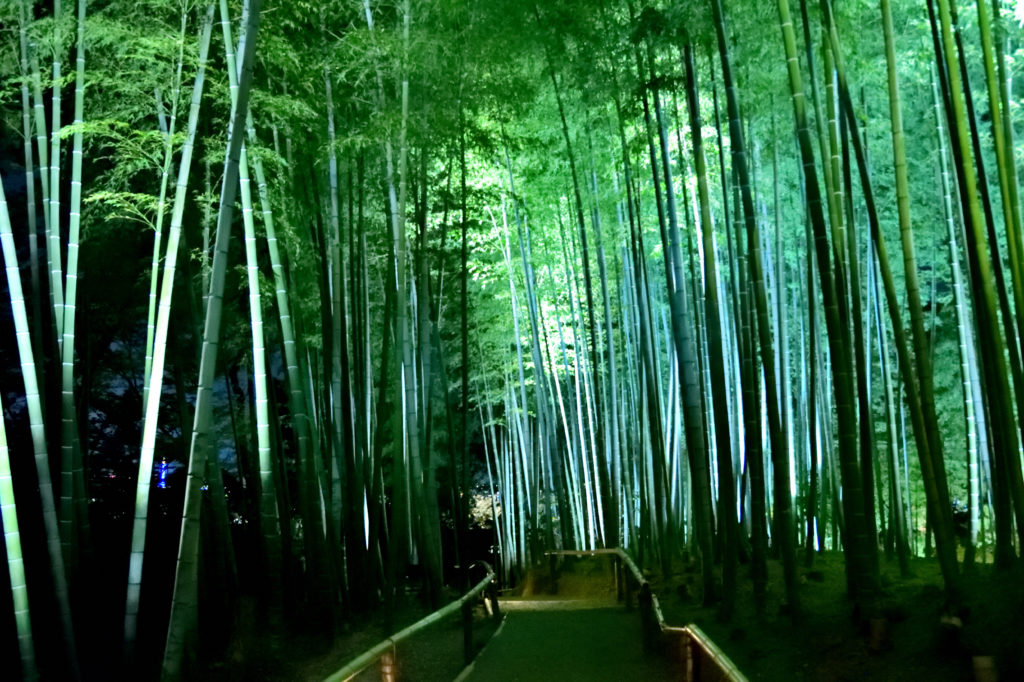 The bewitching beauty of "Gion weeping cherry blossom"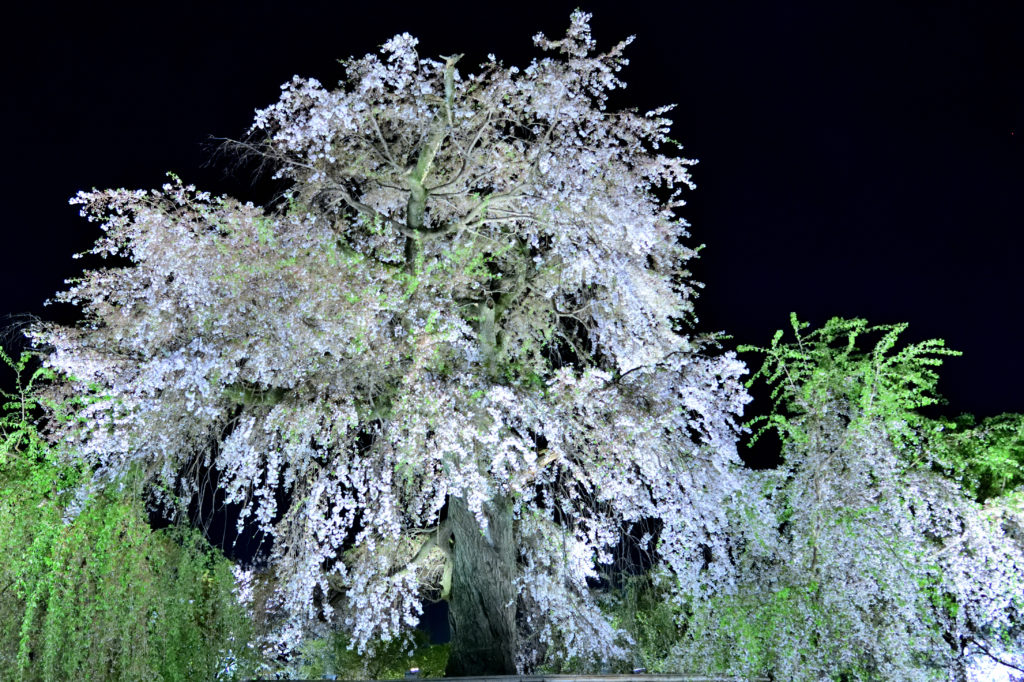 Moving east on the approach, you will see a building with many lanterns. This is called Bouden and it is used for weddings as well as the dedication event of Yasaka Shrine.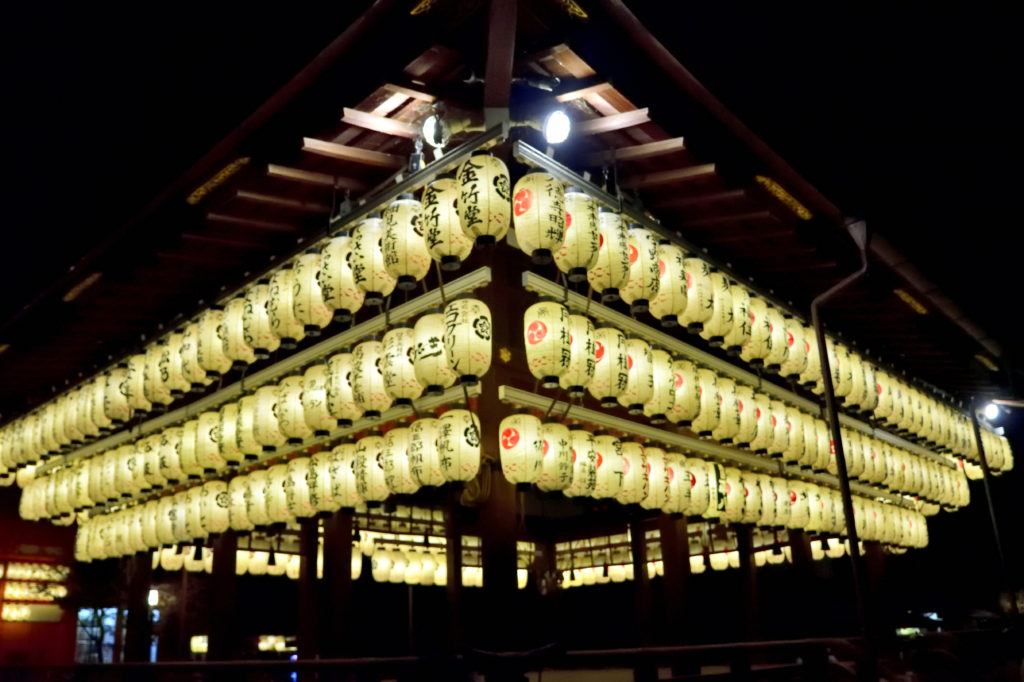 Maruyama Park is Kyoto's most popular park for cherry blossom viewing. In a vast space of 86,000 m2, there are over 680, various kinds of cherry trees including Somei Yoshino and Yamazakura in the park. Speaking of the famous cherry blossoms in Kyoto, it is the weeping cherry blossoms of Maruyama Park. It is also called as Gion weeping cherry blossoms (Gion Shidarezakura), are very magnificent. This weeping cherry tree, actually the second generation, had been present in this area since the Edo period. The current cherry tree was planted and it has been nearly 90 years. Gion weeping cherry blossoms that look up under the blue sky are good, but they are also famous as night cherry blossoms. You can feel the bewitching beauty of Gion, as it appears in bonfires.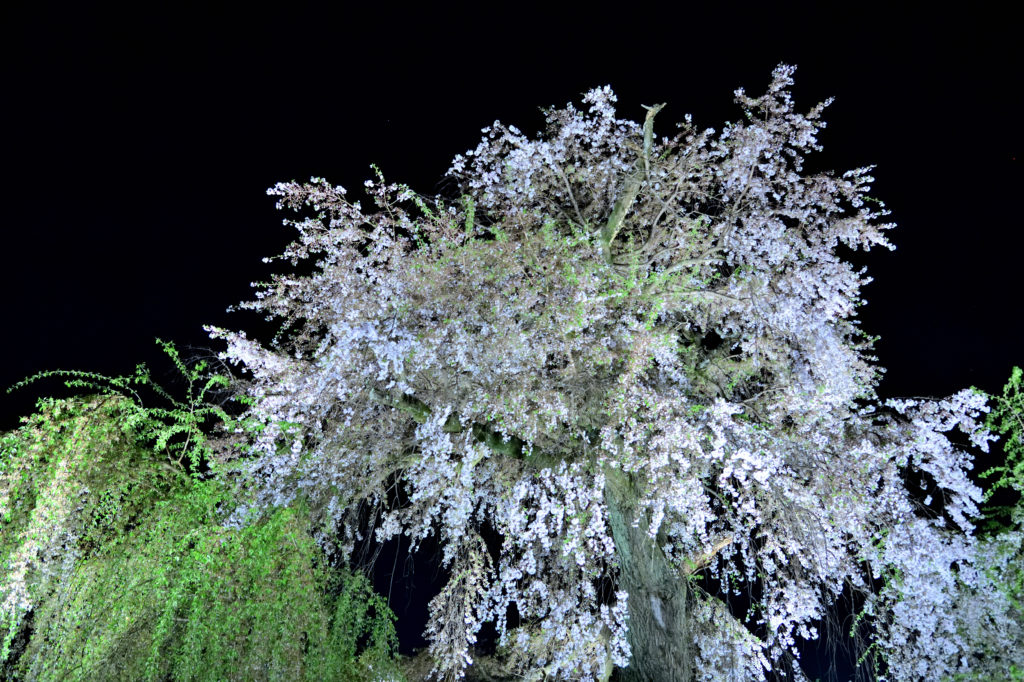 Enjoy eating and drinking while watching cherry blossoms in Maruyama Park
In Maruyama Park, there are paper lanterns around the weeping cherry blossoms and various places in the park. Bonfire ignited at around 6 pm and was on until around 10 o'clock. During the cherry blossom season, there will be numbers of small stalls, seats and tables in the park and visitors can enjoy eating and drinking while watching cherry blossoms. This is one of Japan typical view in spring.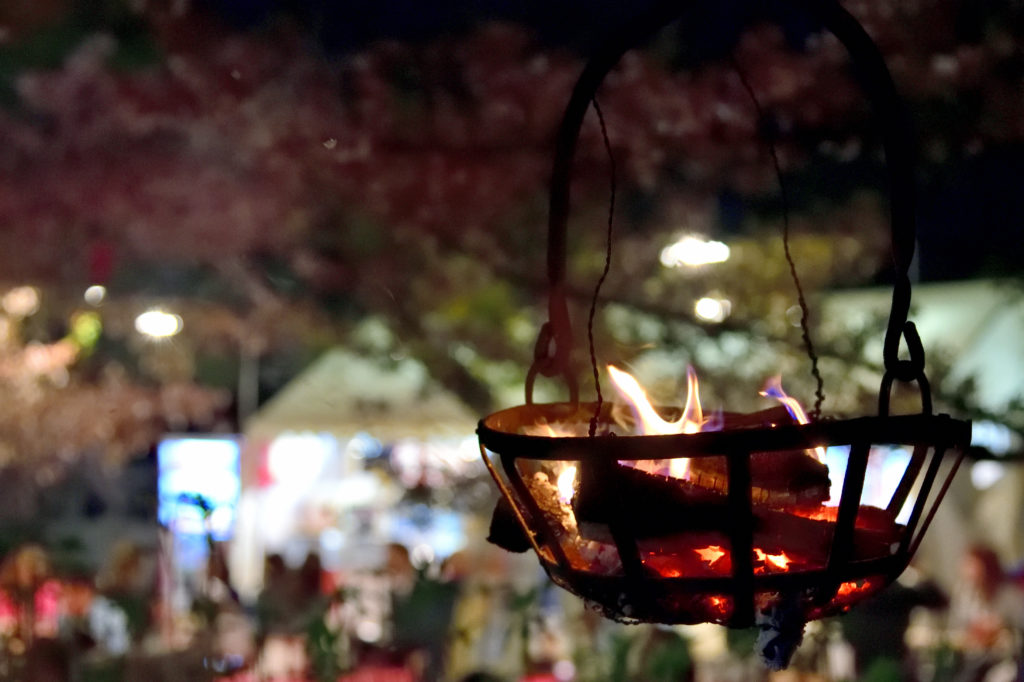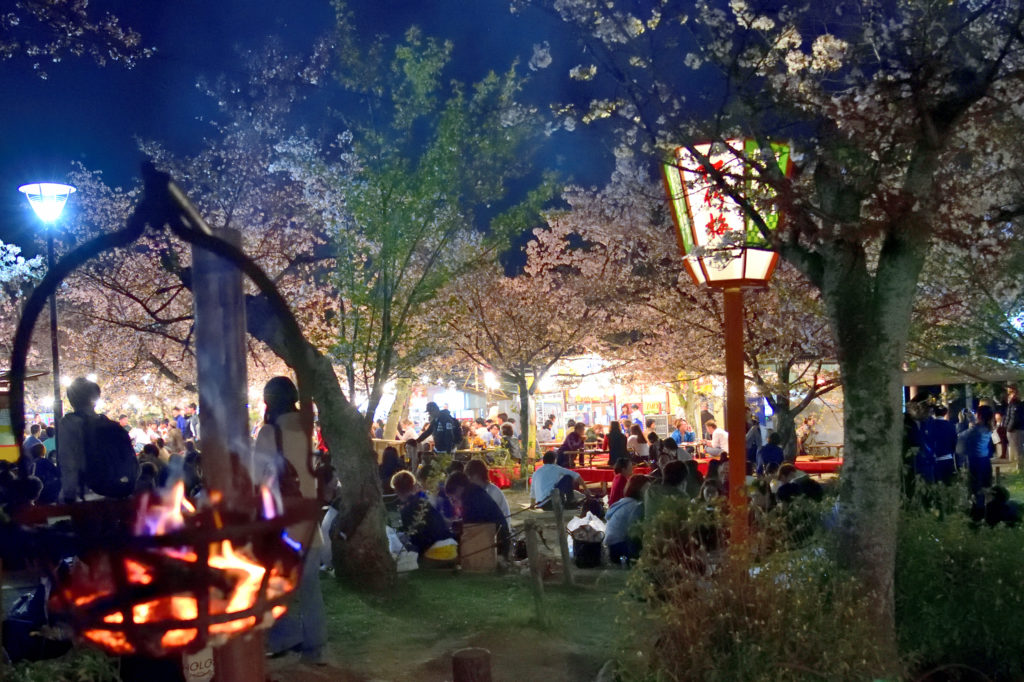 Hours and Admission fees
Open Hours: 9:00 am - 5:00 pm. Gates close at 5:30 pm. (Last entry 5:00 pm)
Admission fee(Kodai-ji temple,Kodaiji sho museum): Adult  600yen Student  250yen Group(30 people or more)  500yen
Discount for 3 places (Kodai-ji temple, Kodai-ji sho museum and Entokuin temple) 900 Yen.
Access
From Hankyu Kawaramachi Station or Keihan Shijo Station,city bus 207  → Get off at Higashiyama Yasui and walk east 5 min.
From JR Kyoto Station or Kintetsu Kyoto Station,city bus 206(Higashiyama direction)   → Get off at Higashiyama Yasui and walk east 5 min.
From JR Kyoto Station or Kintetsu Kyoto Station,15 min by taxi.
※ Due to the narrow streets and lack of parking space, please refrain from comming by private automobile.
Address: 526 Shimogawara-cho Kodaiji,Higashiyama-ku,Kyoto,605-0825 Japan
Tel.075-561-9966 Fax.075-561-7387